`Name: Rayner Setal
Nickname:
Age: 14
Gender: Male
Rank: Experienced Trainer
Birthplace: Viridian City, Kanto
Battle Style: Uses his Pokemons majesty and grace to his advantage. Uses his Pokemons speed to counter attacks. During battles has an all-round attack base.
Looks: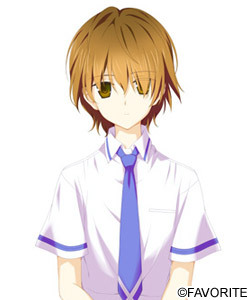 Personality:Gets on well with people and enjoys travelling. He likes adventurous personalities. Rayner is active and neat. He is neat because he thinks everything looks better when it's tidyt. He likes travelling because he enjoys seeing amazing things from different places. Loves playing with Pokemon. Rayner went to the Trainer School and can't wait to start training Pokemon. His favourite Pokemon is Mismagius and he hopes to catch one or a Misdreavus during his travels. He enjoys making friends and has lot's of them. Rayner is sad to be leaving Viridian City.
History: Rayner never got on well with the Gym Leader because his Dad had told him that Giovanni was the leader of Team Rocket. His early life was a happy few years as Pokemon always wanted to play with him. He was called "The Pokemon Boy" at home. Rayner's Mum went missing when he was young and he is now looked after by his Dad and sister Destiny. His sister inspired him, but even though she failed to beat the Indigo Plateau Destiny still got eight badges. When Rayner was 12 he worked at the Pokemon Centre as Nurse Joy's assistant. There he learned how to treat serious wounds and how to revive a Pokemon of all conditions. Riolu was found when he was playing with the Pokemon and after a Pokemon stole another Pokemons berry, a chain of bad things happened and left two teams of opposing Pokemon. Lucario was protesting against the teams' fighting. But when he tried to argue with an Azumarill it inhaled strongly and then blasted Lucarion with a Hydro Pump sending him flying and banging him against a tree. Lucario was knocked out by this. As Nurse Joy's assistant, he ran over to help Lucario. He fed Lucario a Max Revive and Lucario was back to health in no time. Then Lucario was so grateful that he followed Rayner all the way home. Rayner got the message and was given a Pokeball from his sister Destiny and used it to catch Lucario. Rayner then decided to call it Sento. One day when Destiny was taking him to Mt Moon, at the peak an Absol was perched and at that moment Destiny thought it would be a good time to show Rayner how she caught Pokemon. The battle was harsh and ended up with Absol in one of Destiny's Pokeballs. As Rayner always admired Absol so she gave it to him to start his journey.
Badges: 0
Items: 5 Pokeballs,
Beta Medal
Money: $15,000
Pokémon
Pokémon: Absol
Nickname: -
Gender: Female
Level: Lv. 48
Moves:
Swords Dance
Night Slash
Sucker Punch
Taunt
Ability: Super Luck
Personality: Playful
Exp: 0
Pokémon: Lucario
Nickname: Sento
Gender: Male
Level: Lv. 50
Moves:
Metal Claw
Bone Rush
Force Palm
Aura Shere
Ability: Inner Focus
Personality: Loyal but can sometimes be a little over protective of Rayner.
Exp: 0